A Client's Perspective
The legal system is a complex world to navigate on your own. You need a competent lawyer who is knowledgeable of the law, and the nuances and interpretations of it. Walter Anderocci is the attorney YOU need for such an overwhelming endeavor. There is much I could say about the man, all of it high praise for him, but let me tell you what you need to know.
My daughter and I went to see him about her divorce and custody case. It is a very complicated case, involving two states. We consulted with several lawyers at a most difficult and emotional crossroads in her case.
Each lawyer we consulted with earlier in the day delivered the most disappointing news, and basically told us, "sorry, this is just how it is." Well, that was not good enough for Mr. Anderocci.
Although he could make no promises, he was clear on why he thought he could have success with this situation, and the case as a whole. We felt his honesty, and we felt the command he had of the law; there was no mistaking it. My daughter retained him on the spot, and it was a life-changing decision. There are many lawyers - good ones too - but there is only one Walter Anderocci. We have had a lot of experience with attorneys in this drawn-out, convoluted case. At first when we met with lawyers, we assumed it was all like you see on T.V. We quickly found out, it is not. And if a case is as complicated as my daughter's, many lawyers are even ignorant of the law pertaining to the situation. Here again, this is where Walter Anderocci soars above the rest! He pays attention to detail, details that have been dismissed by other attorneys on this case. Details that made a difference with every appearance before the Court.
Walter Anderocci is also a fair man, a good man. He will use his extensive knowledge of the law to his client's advantage. Here is what YOU really need to understand - if you don't hire Walter Anderocci, that is your choice, but just hope that your spouse does not hire him."
-Dorothy G.
A Peer Review
I'm also an attorney in Brooklyn. One of my colleagues, who knows almost everyone practicing here, recommended Mr. Anderocci when I was involved in a high-conflict divorce. My case included some situations that were unusual even for the minefield that is matrimonial law. He handled everything professionally and promptly, and obtained a better outcome than I had thought possible. His hourly fee is on the high side, but it fairly reflects his expertise and, at least in my case, he used his time efficiently and the outcome was absolutely worth it.
I now regularly recommend Mr. Anderocci to anyone with matrimonial or custody issues. He also accepts pro bono work from local agencies, which reflects well on both his ethics and his reputation.
This field of law affects people very personally, and receiving anything but the best results can be devastating. The fact that most of Mr. Anderocci's reviews are positive speaks volumes.
-James R.
---
>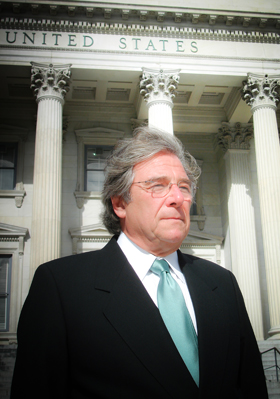 My 30 years experience in marital and family law litigation affords my clients quality representation at reasonable rates. The costs I charge are based upon the issues that must be resolved and time devoted to your case. Cases with limited issues to be resolved call for less compensation than protracted complex matters which must proceed to trial.
I shall endeavor always to make every reasonable effort to reach a settlement to your satisfaction, in order to avoid costly litigation. I shall follow my clients' directives, and attempt to achieve their objectives (which are reasonable and achievable) within the bounds of ethics and the existing state of the law.

Learn more...
In Brooklyn
32 Court Street
Brooklyn NY, 11201
(718) 596-2150
In Staten Island
900 South Ave
Exec Suites 3rd Floor
Staten Island NY, 10314
(718)568-3600